There's no better time than right now to put your AAA membership to use and enjoy savings on life insurance coverage from AAA Life. Discover which policy works best for you and start enjoying added peace of mind knowing the people you love most are protected.
Make your choice and start saving
Guaranteed Issue Whole Life option
If you're 45 to 85 years old, you won't be denied coverage with this option. Buy up to $25,000 in coverage online or over the phone with ease – no health screening is required.
Here's the deal: We'll waive the $60 annual policy fee for AAA Members.

Term Options
Our Traditional and ExpressTerm options provide customized coverage to fit your exact needs. Coverage ranges from $25,000-$5,000,000+.
Here's the deal: New AAA members can enjoy a 10% discount off of their yearly premium payment on AAA Life.

Knowing the real cost of coverage
Even without a AAA member discount, life insurance doesn't cost a lot – or a latte, for that matter. This cost comparison chart shows what the average person spends per month on some common things we spend money on without thinking twice about. Hopefully, this puts the price to help protect the ones you love most into proper perspective.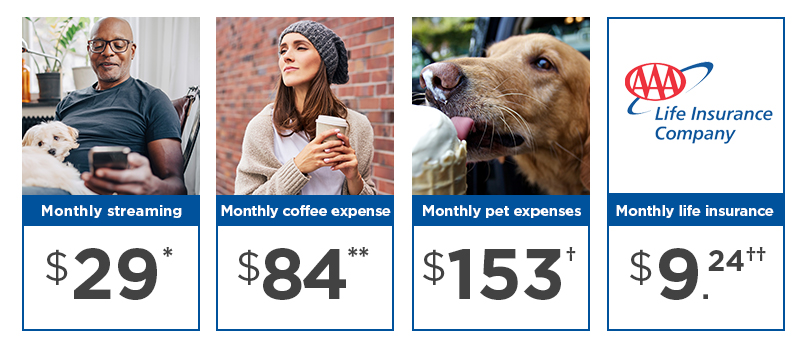 ALAN-27488-321-XX
For full disclosures, click here: www.aaalife.com/disclosures
* Forbes, Tony Fitzgerald, March 2019:
https://www.forbes.com/sites/tonifitzgerald/2019/03/29/ how-many-streaming-video-services-does-theaverage-person-subscribe-to/?sh=2bbb8e746301
** "Americans Pay an Average $2.70 for Coffee, While Tipping 20 Percent," Tom Risen, U.S. News, September 29, 2015.
† rover.com - The True Cost of Getting a Dog - July 2018.
†† Rates indicated are for an automatic payment for a $100,000, 10-year term, female, age 35, excellent health,non-nicotine user for Traditional Term life insurance.
Life insurance underwritten and annuities offered by AAA Life Insurance Company, Livonia, Michigan. AAA Life Insurance Company is licensed in all states except NY.
CA Certificate of Authority #07861. Products and their features may not be available in all states.
©2021 AAA Life Insurance Company, All Rights Reserved.