October 30, 2019 // All //
5 things to consider when updating your life insurance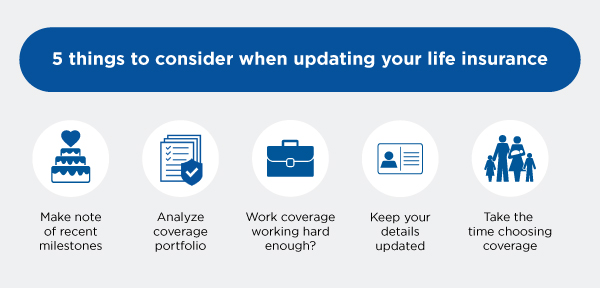 Your coverage needs are a lot like your socks. No, we don't mean florescent and fabulous. We mean they could use a yearly refresh, especially during open enrollment season. It's the time of year where you have the opportunity to adjust your health plan. So why not take a look at all of your policies like your life insurance, home insurance or car insurance to make sure your coverage truly matches your needs? A lot can happen in a year. By following these five tips, you'll ensure your policy is keeping up with your ever-changing needs.
1. Make note of your major moments
You may have had some big moments in the past year or are planning on shaking things up in the new year. Whatever changes happened or are on the horizon, it's important to reassess so your needs and the needs of your family members are met. Remember, you can increase coverage or scale it down to meet your life changes. Some of the biggest moments to take into account include:
Accruing new debt
Buying a home
Changing jobs
Getting married
Having a baby
Having health changes
Planning to retire
Receiving an inheritance
All of these major life moments serve as reasons to reevaluate your coverage needs for the now and for whatever's next.
2. Analyze your life insurance policy
Take a good look at your life insurance coverage. How much do you have? Who is covered? Are you paying for any supplemental insurance? If so, how much coverage does it offer? All of these questions will help paint a picture of whether or not you're completely covered. You can also ask: What kind of policy will fit me best? Mull over all of your options. You can find something to work within your budget that can help keep you and your family covered. And for empty nesters, retirees or those looking to retire – you can find a couple of options that may be more suitable to your needs.
3. Ask yourself: Is my work coverage working hard enough for me?
Perhaps you have life insurance coverage through your employer. Awesome. But chances are, the coverage through work is not enough. In many cases, it simply does not guarantee you and your family will have adequate coverage.
Typically, employers only provide the bare minimum amount of coverage – often only 1 or 2 times your yearly salary, while many people use 7 times their annual salary as a starting point. Additionally, if you change jobs, employer-provided life insurance does not travel with you job-to-job. That's why an individual policy through a third party is ideal. With an individual policy you're totally in control no matter what happens with your job, and in many cases, stays with you as long as you continue to pay your monthly premiums.
4. Keep your details updated
Some of the not-so major changes in your life also require some attention during open enrollment. Go through and see that your address and contact information are up to date – to make it easier for your life insurance provider to contact you or notify you of any changes to your accounts.
5. Take the time for what matters most
You put in so much time and effort picking out the perfect health and dental plans to keep your family protected during open enrollment. So it only makes sense to put in just a little extra effort to help keep them protected with ample life insurance coverage. Spend a few extra minutes by putting in the research and analyzing your life. By doing so, you'll have the confidence of knowing how much coverage you should have to help protect those most important to you.
Once you complete all 5 of these things, contact an agent to discuss customized life insurance options. We trust you'll find one to fit your needs.
The road to keeping your coverage current every year going forward starts now.