You may have decided that you need life insurance because you want to help make sure your family, their expenses, and your final expenses are taken care of when you're gone.
But how much life insurance do you really need? There are several factors to consider because it will always depend on your specific expenses. You'll want to consider your:
Mortgage
Household expenses
College expenses
Any other debt
Final expenses (funeral and burial)

All of these variables play a huge role in determining the right amount of coverage for you. If you're seeking a much broader way to look at life insurance, this simple calculation serves as a good baseline, or "magic number", to start with.
Your income x 7 = the magic number.
Here is an example of how life insurance helps to keep you covered.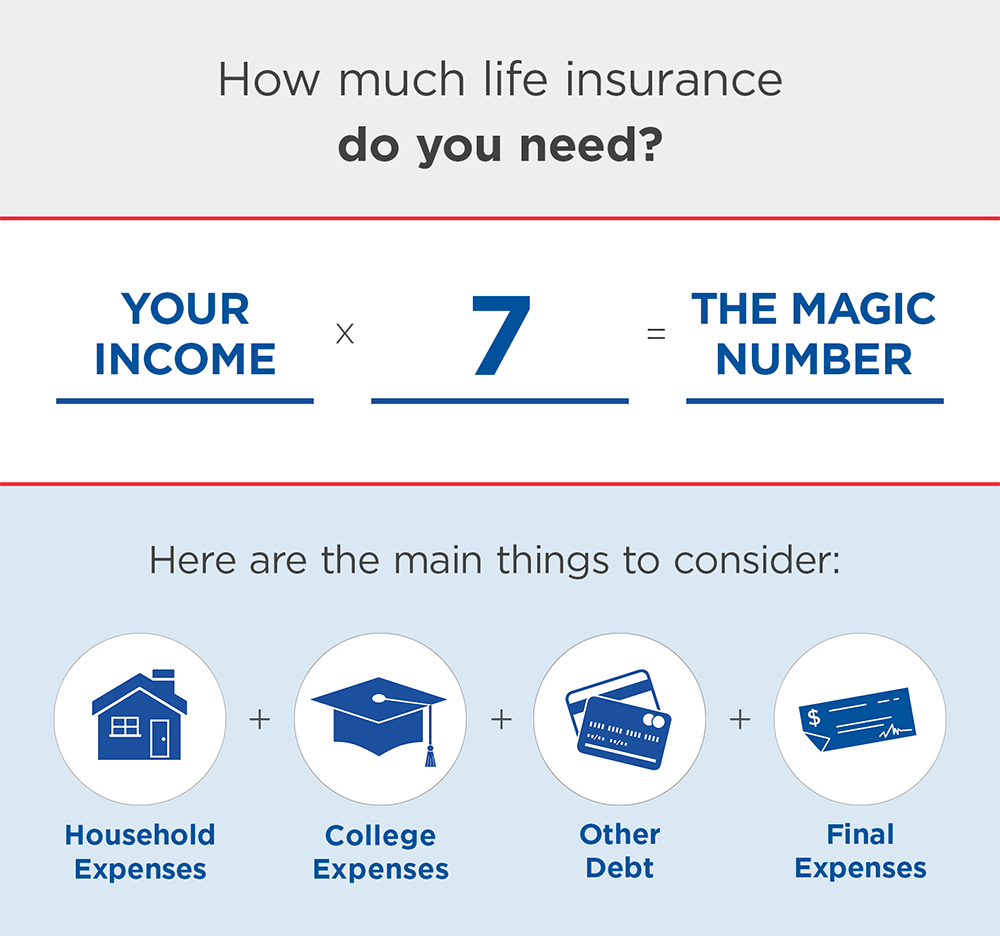 Meet Dave.
Dave is 40 years old, he makes $65,000 a year, has a wife and three kids ages 4, 7, 11.
Dave would like to cover the following expenses:
$175,000 to pay off his house
$90,000 for future college tuition costs
$20,000 for his vehicles
$7,000 for funeral and burial
$5,000 in credit card bills Total = $297,000

Now here is the math: Let's take Dave's salary, $65,000, and multiply it by seven to get Dave's number.
$65,000 x 7 = $455,000 in estimated coverage needs.
That figure covers everything and leaves Dave's wife and kids with $158,000 remaining. Dave's family can put that money toward whatever else they need or desire, including ongoing monthly household expenses.
Policies, like Dave's, can start at as low as $22 a month1 – but there are also several factors that need to be taken into consideration when it comes to your rate like your age, term length and nicotine use.
Finding the right amount of life insurance

The right number for you could be much different than Dave's number. The formula, your salary x 7, is a great starting point, but you don't have to go at this alone. A life insurance professional from AAA Life can help you apply for the type and amount of coverage that's right for you. Our experienced agents are more than willing to answer any and all questions, walk you through your needs, calculate costs, and determine the type of life insurance that can work with your budget.
To request a quote or to further discuss how much life insurance you need, please contact an agent.
1 Based on monthly automatic premium for 10-year level term policy, male, age 40, best class non-nicotine.
Traditional Term Policy Form Series: ICC11-1201/TL-1201 (In OR: ICC11-1201).
Premiums are guaranteed. They are level for the term period and increase annually thereafter. Premiums above are examples only and may vary based on your personal health history and underwriting guidelines. The answers provided to the health questions are used to determine eligibility for coverage. Not all applicants will qualify. Product and its features may not be available in all states. Coverage ends at age 95.
This is a summary of insurance provisions and does not contain all of the benefits and exclusions. For complete terms of the insurance coverage, please contact your insurance professional or refer to the policy.