When is the best time to get life insurance? The short answer is, it's never too early to start thinking about getting covered. Please keep in mind the kinds of insurance protection you need may change over time. Whether you're single, married, starting a family, planning for retirement or just enjoying your golden years, there's a policy out there that'll help provide protection for those who matter most to you – no matter which stage in life you're at. Below, we walk you through all 5 stages, and give you some reasons why it's always a great idea to have coverage.
1. When should a single person get life insurance?

If you're a young adult, chances are you're one of the 44.7 million Americans* who have student loan debt. Did you know that this type of debt won't go away, even in death? If you were to pass away, your student loan debt may be left to your parents or loan cosigner. A term life insurance policy could cover expenses like these and the cost for your funeral and burial. And since life insurance rates often increase with age – now is the time for single people in their 20s and 30s to lock in some great rates to prepare for their future plans as well. As you begin your life and your career, it's important to take the necessary step to ensure the people you care about, like your cosigner, are taken care of if something were to ever happen to you.
2. When should a married person get life insurance?

Saying "I do" to your partner means sharing everything in life, including your partner's assets and debt. You also have another life to protect now that you're married. That's why term life insurance is a great choice for young married couples. It can help pay for things like daily living expenses, your mortgage, utility bills and final expenses. Term policies start as low as $8 a month** and help ensure that when a spouse passes away, the surviving spouse can continue the lifestyle they've grown accustomed to. The best option for you and your spouse is as unique as you are, so start by comparing rates and coverage options.
3. When should a person with a family get life insurance?

If you have a family, a top thing on your to-do list – way ahead of signing them up for soccer or buying them the latest video game console – should be getting a life insurance policy to keep them covered. You put all your time and energy into helping them have everything they need, and that's why it's so important to think about what life would be like for your family if something were to happen to you. Ask yourself: Could they maintain the same lifestyle they have now if you were gone? Would they be able to pay for college without your financial support? These are some serious questions, fortunately our Accumulator Universal Life Insurance policy could help provide some serious financial support if your children were to need the coverage. This type of policy builds cash value over time and can provide up to $20,000 of life insurance coverage per eligible child with an additional rider. Calculate how much coverage your family will need and take the first step toward added peace of mind.
4. When should those planning to retire get life insurance?

The kids may be moving out (well, at least they're thinking about it) as you near your retirement. But there are still numerous reasons for empty nesters and those looking to retire to have life insurance. One of the biggest reasons to get life insurance is that it can help preserve your retirement plan by replacing life insurance benefits you may have previously received from your employer. In addition, it can help pay off current debt along with final expenses. As you approach your golden years, it may be a good idea to consider a Lifetime Universal Life Insurance policy. It gives those nearing retirement the chance to plan for all of the adventures ahead. Coverage is customizable, starting at $25,000, with locked-in interest rates and the ability to add optional riders.
5. When should retirees and those between the ages of 65 and 85 get life insurance?

It's important to leave a legacy for your children and grandchildren – and life insurance is one way to make that happen. It also allows you to allocate an inheritance or make a charitable donation, cover the cost of estate taxes, or replace income you previously received from a pension. In addition, our Guaranteed Issue Whole Life option is one of the preferred ways to help older adults pay for final expenses – which allows you to leave more of your estate for your children, grandchildren and those most precious to you. This option is guaranteed, comes with a fixed rate and provides up to $25,000 in coverage. Discover all the benefits of our Guaranteed Issue Whole Life option today.
Your life, your coverage

No matter what stage you're at in life there is no better time than right now to apply for life insurance. You have so many reasons to apply. Help protect your cosigner, your spouse, your children, your family and their futures if something were to happen to you. Apply by contacting one of our experienced agents over the phone or start your quote online to begin the process. The time to protect your loved ones starts now.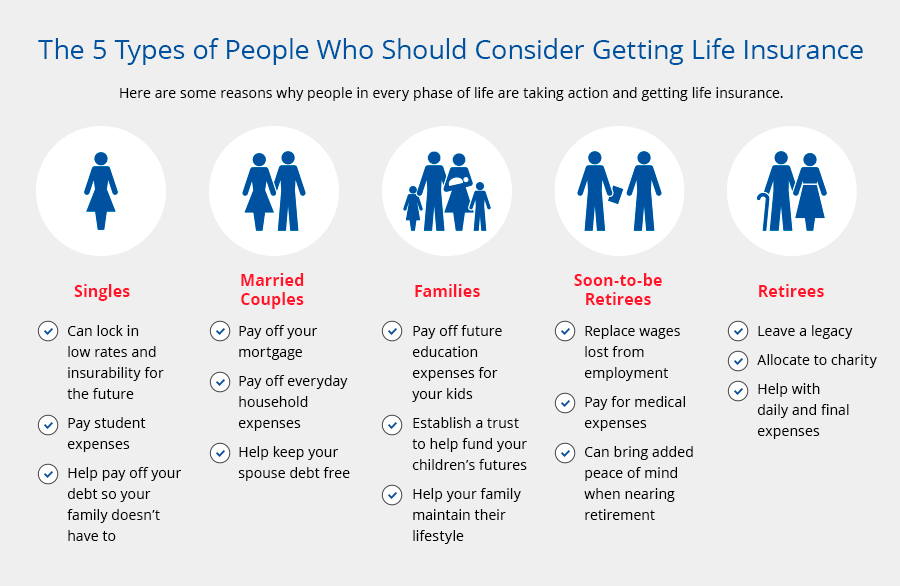 †Based off of a 2020 LIMRA Barometer report
*https://studentloanhero.com/student-loan-debt-statistics/
**Based on a monthly automatic premium for a female, age 35, 10-year level term policy, best class non-nicotine.
AAA Life and its agents do not provide legal, financial, or tax advice. Therefore, you may wish to consult independent professional advice prior to the purchase of coverage.
This entire package is an outline of the coverage provisions and does not contain all of the benefits and exclusions. For complete details of coverage, please refer to the policy